Preparing for a shift at Westfields Hospital in the midst of the COVID-19 pandemic often felt like preparing for war, Vice President of Medical Affairs Dr. Eric Ling said. 
"You wrapped yourself in protective equipment and sallied forth to deal with a mortal foe, immersed in a precarious environment and with a sense of deep vulnerability that COVID could strike any of us at any time," he said. 
Hospital staff knew they were taking risks coming to work each day. 
"When it first started, you're walking into a room and you don't know what you're exposing yourself to, even if you're wearing all the appropriate protective gear — gown, goggles, face shields," Hudson Hospital Vice President of Medical Affairs Dr. Karen Moeller said, "It's scary." 
Now vaccinations have eased the minds of staff and protected them as they continue to see COVID patients. 
"Once health care workers were vaccinated, there was a big sigh of relief," Moeller said. 
Ling and Moeller looked back at a year of COVID-19 in the local Wisconsin hospitals. Ling is an emergency room doctor, and Moeller is a hospital medicine doctor, and together they saw the full range of patients. 
The two HealthPartners hospitals first began to see the impact of COVID-19 in March. It started with a few patients here and there, slowly trickling in, Moeller said.
Intense preparations began for the anticipated surge, Ling said, with hospital leadership meeting multiple times a day and developing strategies for a variety of COVID scenarios. 
Those preparations helped them when the surges did hit. 
The first came in May and June 2020, right around Memorial Day. 
Westfields saw many COVID-19 patients from congregate living facilities, and did have some struggle to find ICU beds in the region.
This surge ended in late June. 
"Temporarily at least, we all felt victorious," Ling said.
Then the next surge hit in November. 
In Hudson, the hospital was rearranged to make room for COVID patients. A COVID unit was created, with the area cordoned off in the back part of the hospital. The hospital also had a few negative airflow rooms. 
The space allowed for eight to 10 COVID patients at a time, and it was used to their capacity.  Generally the hospital only has about 15 patients. 
"For every COVID patient that you take care of, it's actually two patients," Moeller said. "It's the patients themselves, and then it's the families." 
Visitors were not allowed, but the hospital did have iPads setup for patients to communicate with family. 
A COVID taskforce met daily to ensure treatment was the same across the HealthPartners hospitals. 
Westfields saw a much broader range of patients during this surge. The typical hospital census doubled, Ling said. 
Staff worked five to six shifts a week, all in full PPE. Additional staff was brought in from outpatient departments to help care for everyone.
"Exhaustion seeped into the hospital, and was almost palpable, but staff persistently rose to each new challenge and I've never been more proud of our team," Ling said.  
Like other hospitals across the nation, Westfields and Hudson did see shortages of PPE. 
Westfields had a few waves of limitations of PPE, including with N-95, gowns, gloves and PAPR filtration device units. 
Hudson Hospital staff reused masks, following a plan on how to use one mask over multiple days, switching between two in a week. 
"We were always able to find workarounds," Moeller said.
In the first wave of the pandemic, patients were generally elderly from living facilities, Ling said. The hospitals started seeing much younger people as the summer progressed, Moeller said. The second wave involved patients from every demographic. Now, the hospital is seeing patients on the younger side, with the highest demographic in their 50s. Most current patients are unvaccinated.
The needs of admitted COVID-19 patients varied, Moeller said. Some were on oxygen for a few days and then were able to go home. Others needed high-flow oxygen. Some patients had to be transferred to ICUs at other hospitals.
"We did have several patients that were transferred to ICUs that ultimately died," Moeller said. 
Twin Cities hospital capacity impacted Hudson's ability to transfer patients. Sometimes when making the call for an ICU bed, they found there were none available, Moeller said. 
"We did have to transfer folks all the way across Minnesota. We've had to transfer folks, at one point, I think over to Eau Claire," she said. "At times we just had to find out what ICU was available."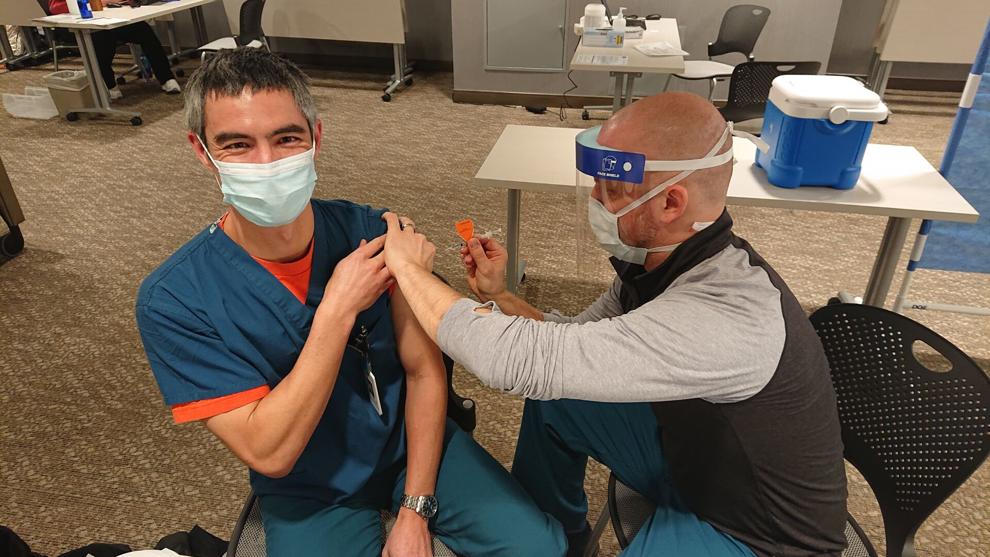 With vaccinations largely underway, the hospitals have seen a drop in the number of patients that are sick with COVID-19. Those who are vaccinated aren't generally getting COVID-19, and even the breakthrough cases are not being hospitalized, Moeller said. Hudson has not seen any breakthrough cases, she said. 
As ICUs are seeing some relief, Moeller wants people to know that COVID-19 is real and even if they don't get that sick, it could kill someone else. 
"Get the vaccine, they're safe, and they will prevent this virus from continuing to rule our life," Moeller said. 
Now things have settled into more of a routine inside the hospitals, Ling said. Masks and PPE are still in use, and doctors are still seeing COVID-19 patients along with vaccine hesitancy. The virus likely isn't going away, Ling said, but hospital staff remain resilient and spirited. 
"We've fought exhaustion and despair and come out the other side. We've laughed together and cried together. We're family, and we're still here, stronger than ever," he said.


Read More:New Richmond, Hudson hospital staff reflect on one year of COVID