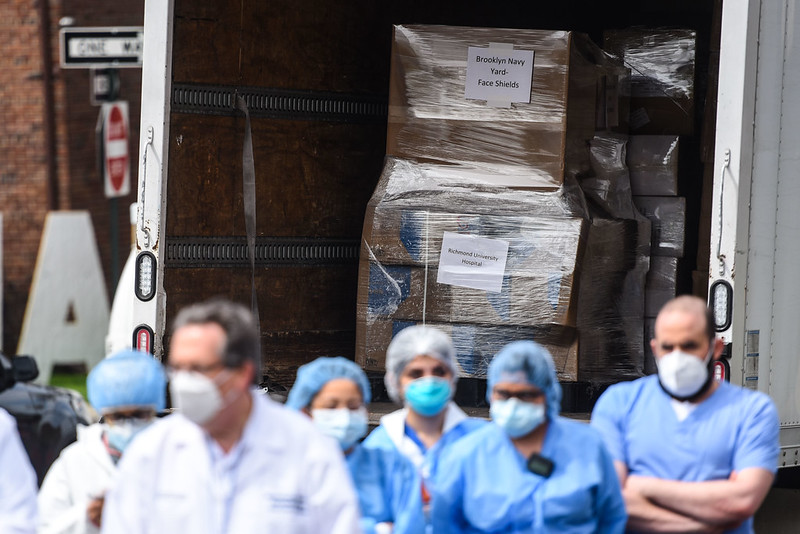 Supplies arrive at a hospital (photo: Michael Appleton/Mayoral Photography Office)
---
New York City is a "few weeks" away from securing a 90-day stockpile of medical personal protective equipment (PPE) and ventilators, according to Mayor Bill de Blasio's administration, a project the mayor announced in April as part of a vow to be better prepared for a potential second wave of COVID-19 and other emergencies. But some elected officials and the New York nurses union are questioning the formula behind the 90-day supply benchmarks and whether the stockpile will be adequate for hospitals in the event the current uptick in cases and hospitalizations gains enough momentum to approach crisis levels.
De Blasio said the stockpile, known as the "NYC Strategic Reserve," would be ready by the end of the year and should be able to support public and private health-care facilities citywide for a three-month period based on the city's PPE usage at the height of the pandemic — a time when hospitals were overrun and doctors, nurses, and support staff were forced to reuse disposable gear for days. According to the mayor's office, the city is close to amassing thousands of ventilators and hundreds of millions of units of PPE, including 13.5 million N95 masks, 185 million nitrile gloves, gowns, face shields, and dozens of other categories of gear.
"We'll purchase what we need and create a stockpile so we will never be in a situation where we turn to those who are supposed to supply this and they say, sorry, we're all out," de Blasio said in April when he made the announcement.
"At the Mayor's direction, we established a Medical PPE Service Center that could supply the New York City healthcare sector with peak volumes of PPE from the Spring for a full 90 days and meet any ventilation needs we might have," wrote Avery Cohen, a spokesperson for de Blasio, in an email at the end of October.
As part of the Strategic Reserve plan, de Blasio promised to acquire 4,000 ventilators, to be stored and regularly serviced until needed. "We are building up our City-owned ventilator fleet, in combination with resources at hospitals and ongoing support from the Strategic National Stockpile," wrote Cohen, who would not say whether 4,000 was still the goal, or if the maintenance program was underway.
The discussion has taken on more urgency in recent days with hospital admissions leaping upward and the seven-day positivity rate averaging over 2%. City Council Member Mark Levine, who chairs the Council's health committee, says the figures mean the city is already experiencing a second wave. Governor Andrew Cuomo announced new statewide restrictions on Wednesday.
People on the ground in hospitals and elsewhere are skeptical that there will be enough PPE for a full resurgence of COVID-19 and, in terms of ventilators, city and state public health agencies have never before considered New York to be prepared for a serious pandemic influenza. Highest among the concerns is that the PPE burn rate at the peak of the pandemic should have been much higher, if supplies had been available, and that the city is calibrating to a time when hospital conditions were likened to war zones.
"At that time the way that we were using these supplies were [through] these contingency and crisis guidelines and, really, many places weren't even hitting the crisis guidelines," said Pat Kane, executive director of the New York State Nurses Association, which represents roughly 20,000 registered nurses in the five boroughs alone, of whom 8,500 work in the city's public hospital network.
"Shortly after the pandemic hit, the CDC changed a lot of its positions on what the proper equipment was. They changed their guidance based on supply," Kane told Gotham Gazette.
"When there is a crisis in the supply chain…that's OK to do, but when that becomes the ceiling and the norm it's a problem," she added.
In the spring, nurses in hospitals were being asked by administrators to reuse the same N95 mask for five days or more, keeping them in paper bags and, when they got damaged, mending them with staples and rubber turnequits, Kane told Gotham Gazette. Hospital staff — including non-clinical personnel — at times resorted to other makeshift methods, like wearing plastic garbage bags as a protective layer.
"We are still using conservation methods for N95s in many places. We're still not using N95s the way we were before covid," Kane said, when nurses were able to follow "proper infection control."
"They don't have all the PPEs they deserve," de Blasio said at an April 3 press briefing, acknowledging the emergency measures strayed from traditional guidance. "We've been now for weeks and weeks on a crisis footing and the CDC recognizes this, that there's one standard, if you will, for peacetime, there's another standard for wartime and we have to make tough, tough choices and get by with less in wartime."
City Council Member Ben Kallos, a Manhattan Democrat who chairs the Council's contracts committee, said he has been seeking information on the peak PPE burn rate and the formula behind the city's stockpile figures without success, most recently at an oversight hearing in October. The mayor's office did not respond to a separate Gotham Gazette inquiry for the same information.
"The administration still hasn't shared how they came to this number and whether or not these numbers are accurate," Kallos said in a phone interview.
"We do know from common sense, common knowledge, anecdotes, and testimony at the hearing, that the numbers of PPE that we need are deflated because of people being instructed or choosing to recycle PPE that they shouldn't," he said, adding, "I am incredibly fearful that this 90-day stockpile is not the right number."
Kane said she is optimistic that any resurgence of the virus would not be as bad as in the spring because of the increase in testing, mask-wearing, and overall awareness of the virus. "I think it's great that the city put out some information, but it all comes down to: how are we going to be using the equipment," Kane said. Experts are exploring reusable alternatives to disposable PPE, like elastomeric masks — a kind of gasmask-style face covering with removable filters — which they say are safer and cheaper over longer periods of time, and are urging public health officials to consider.
"The good news from the hearing is that the administration said they were open to buying these elastomeric masks, but we have not heard from the city and whether they are going to add them," Kallos said.
Months after the first peak in COVID-19 cases and deaths in New York, the state is again seeing a rise in cases, hospitalization, and deaths. On Monday the mayor called a second wave "dangerously close" as the city's slate of COVID-19 indicators reached their highest point since spring, approaching or surpassing thresholds set by public health officials that indicate when action is needed. Since August, several coronavirus hotspots have emerged that the city and state have taken action to try to supress, including more testing, pushing mask use, cracking down on gatherings, and closing down schools and non-essential businesses.
It's unclear exactly what a second wave will look like but de Blasio is now saying he views the combination of a "sustained" 3% positivity rate of the tested population, a seven-day average of new reported daily cases above 550, and daily hospitalizations over 200 as constituting a resurgence of the virus. On Tuesday, the seven-day average positivity rate was 2.3% and covid hospital admissions in the city increased from 71 to 92. New reported cases surged to 795, per the mayor's Tuesday report, alarming public health officials. The mayor has said the entire school system will move to all-remote learning if the seven-day rolling positivity average hits 3%.
These are still far from the levels the city saw in March, April, and May, but the recent memory of how quickly things…


Read More:City Says Medical Supply Stockpile Nearly Complete; Healthcare Workers Wonder If