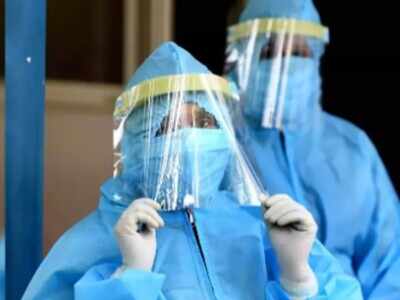 Some leading manufacturers of PPE kits in India have expressed concern over the safety standards being followed in the manufacture of personal protective equipment in India.
Hemant Sapra, a manufacturer who has been making PPE for the past 25 years and is president of the Safety Appliances Manufacturers Association, said that at present there are 253 manufacturers and out of these not more than 55 have the BIS certification. Out of these 55, just 10% have a testing lab on their premises.
"In India, the BIS certificate could be obtained only if the manufacturer had a testing lab on his facility. But last year when the pandemic started and suddenly there was a huge and urgent need for PPE, the government relaxed the rule and started giving provisional certificates to manufacturers who didn't have testing labs. As a result, a lot of traders who were not PPE manufacturers started making it. I know property dealers and jewellers who are making this life-saving product. They lack technical know-how of the process and have little control over the quality of the raw material," said Sapra whose factory is based in Noida.
PPE is a high precision product that follows strict standards of safety and a very technical process to make. For example, as per the guidelines set by the ministry of health and family welfare, the fabrication of the body cover-all and the gown must be carried out by adhesion/sewing/thermal/RF welding/ultrasonic welding or a combination of techniques. The gear should be of single stitch, to reduce the chance of any fluid penetration. "A special number 9 needle is used to stitch the garment so that no pores are left open.
The plastic used in creating the overall is virgin plastic with 100% water-proofing, and it costs Rs 170 per kg. But some manufacturers use low-grade plastic which is not completely water-proof," said Pravesh Chopra, a manufacturer who also exports face masks to Japan.
Doctors that TOI spoke to had all experienced using low-grade PPE.
Dr Ajay Kaul, a cardiologist in Delhi, said that in low-quality kits, gloves tear easily. "The overall fabric is fragile and it tears if you bend. At times, it's not water-resistant and may leak body fluids. That's why I put on two," said Kaul.
"If PPE is not used properly then it can infect the healthcare worker," said Dr Shahaji Deshmukh, dean, Bhartiya Vidyapeeth medical college, Sangli. He pointed out that low-quality PPE kits don't fit snugly at wrists, neck and ankles and may lead to contamination through hands. "The front zip is often faulty. It should extend enough into the perineum so that it is easy to wear and take off," said Deshmukh.
Used PPE kits need to be disposed of by incineration. But there have been recent media reports which highlighted that hospitals are just dumping the kits and unscrupulous traders are recycling them. "Only a few manufacturers are manufacturing PPE, the rest are just recycling disposed PPE," said Karan Bose, managing director, Hula Global, a PPE manufacturing firm in Delhi.
The government is taking steps to rectify the situation. All traders who don't have a lab but have the BIS certification have been asked to make one by December 2021 or their existing certificate will not be renewed. In January this year, the ministry of labour amended the law and mandated that all safety equipment made in India carry only Indian quality standard seal. "Otherwise, many products were carrying Chinese certification – KN95, which could be easily purchased or American – N95 without actually testing the product in the US. Even European certification was available for as little as Rs 14,000. We reported the matter to the European Union but they said 'they have no control over India'," Sapra said.
FacebookTwitterLinkedinEMail


Read More: Out of 253 PPE manufacturers in India, only 55 have BIS certification; just 10%