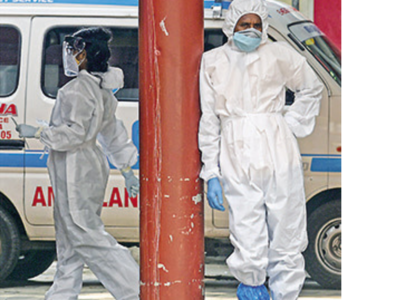 BONE OF CONTENTION
KOCHI: Leading manufacturers of PPE kits in the state have expressed helplessness in manufacturing good quality kits at the rate fixed by the state government. While some have informed private hospitals that at the present price, they would reduce the items in the PPE kit to just body suits and shoe covers, others have made it clear that quality will have to be compromised for the cost. Private hospitals have now sought the chief minister's intervention in the matter.
The main contention of the manufacturers is that they are dependent on raw material from other states and due to increase in Covid cases, their cost have increased. They are also demanding that there should be a graded price for all items, depending on quality. PPE kit consists of a body suit, head cover, shoe cover, goggles and N95 mask. The government, in an order on May 14, had declared these items as essential articles and fixed maximum retail price for them.
"Due to recent price restrictions, good quality products from the state are now going to other states where there are no price restrictions. This may lead to a dangerous situation where HCWs will be unable to get quality safety products. We have appealed to the chief minister to consider restructuring the current pricing," said Hari K S, secretary, Association of Indian Medical Product Manufacturers.
"There should be some control in prices of raw materials. It should be noted that N95 masks, goggles and gloves are not manufactured in the state and are sourced from outside. Now, with the price fixed, no one is interested in selling the product to us and this is leading to acute shortage. A Bureau of Indian Standards (BIS) approved PPE kit costs us Rs 350, while the government has fixed an MRP of Rs 273," added Subhash AV, a leading PPE kit manufacturer in the state.
However, Indian Technical Textiles Association (ITTA) chairman SK Sundararaman and managing director of Shiva Texyarn, one of the leading PPE kit manufacturers in the country said that it is possible to give the items at the rate fixed by the government and they are already in talks with private hospitals. "Good quality manufactures can supply the products (500 to1,000 kits) at the price fixed by the government. However, if the hospitals want to mark it up then it won't be possible," added Sundararaman. There are allegations that some private hospitals purchase PPE kits at around Rs 350 to 400 mark it up three to four times when billing patients.
Meanwhile, Kerala Private Hospitals Association secretary Dr Joseph Benaven said that "compromising the quality of these products will surely put healthcare personnel at risk. This may lead to a situation where scarce human resources are further depleted leading to a crisis".
FacebookTwitterLinkedinEMail


Read More:Kerala: Concern over quality of PPE kits at government rate | Kochi News – Times