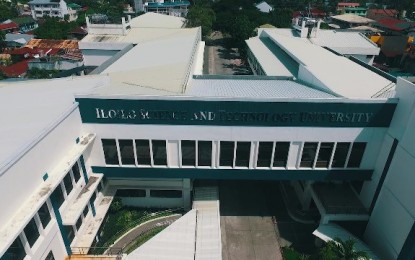 ILOILO CITY – The Iloilo Science and Technology University (ISAT-U) has produced face masks, personal protective equipment, testing booths, and sterilization gadgets for health front-liners and patients amid the coronavirus disease 2019 pandemic.
Dr. Raul Muyong, president of ISAT-U, in an interview on Saturday, said they helped health front-liners and their partner agencies through the provision of 19,185 face masks, 2, 124 face shields, 51 aerosol boxes, 6,561 protective suits, and the establishment of a community kitchen.
With the Fabrication Laboratory (Fab Lab) provided by the Department of Trade and Industry (DTI), ISAT-U also came up with the prototype of the Ultraviolet C (UVC) sterilization gadgets for rooms and N95 masks.
The institution also created mobile specimen collection booths for reverse transcription-polymerase chain reaction (RT-PCR) tests, which were donated to Iloilo hospitals with the support of the Department of Science and Technology (DOST).
The booth is complete with a UVC sanitizer lamp, pressure sensor, air conditioner, and a separator between the technician and the patient providing protection and safety to both.
"No amount of pandemics can stop us from performing our respective functions with regard to instruction, education, extension, production, internationalization and infrastructure development," Muyong added.
Meanwhile, academically, he said they "struggled but we were able to thrive".
With no face-to-face classes and the adoption of the alternative work arrangement, he said they also came up with modified academic policies.
The university has adopted the virtual learning environment throughout the ISAT- U System through its learning management system.
"We are using cloud technology to provide access to all campuses. Our common system-wide e-learning system platform can be accessed by students and faculty," Muyong said.
The university has equipped 5,416 students from its main campus in La Paz district with electronic tablets.
Portable WiFi procured for over 3,000 students of its Miagao, Iloilo campuses have arrived and will be distributed soon.
"We are assuring that we are also finding means so that our students from other campuses can also avail of WIFI and e-tablet," Muyong said.
ISAT-U has campuses in municipalities of Dumangas, Barotac Nuevo and Leon.
"The connectivity is a challenge but we have to be very lenient, considerate, and compassionate," Muyong said.
He added that continuously they have a dialogue with students to learn of their concerns while the Parents Affairs and Relations Office, a special office under the Office of the Vice-President for External Affairs, was created to address concerns of parents about the learning of their children.
The institution will be marking its charter anniversary on May 18, which Muyong said coincides with the National Higher Education Day.
Activities to mark their anniversary will be done virtually except for the blessing of two infrastructure projects and the Eucharistic celebration that will be graced by few guests.
ISAT-U was formerly the Western Visayas College of Science and Technology. It was converted under Republic Act 10595 that was signed into law in 2013. (PNA)
(function(d, s, id) {
var js, fjs = d.getElementsByTagName(s)[0];
if (d.getElementById(id)) return;
js = d.createElement(s); js.id = id;
js.src = "https://connect.facebook.net/en_US/sdk.js#xfbml=1&version=v2.9&appId=1207373562715564";
fjs.parentNode.insertBefore(js, fjs);
}(document, 'script', 'facebook-jssdk'));