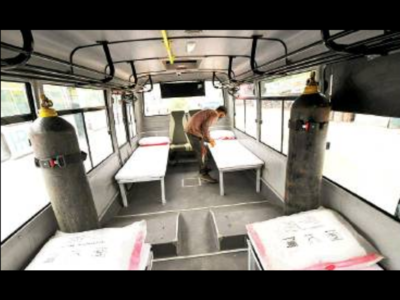 A bus fitted with beds and oxygen cylinders
PANCHKULA: As many as five Haryana roadways mini-buses at Panchkula depot have been converted into Covid-19 ambulances with four oxygen beds capacity, besides other important medical equipment. The buses will be handed over to the Sector 6 civil hospital.
Vinesh Kumar, general manager of Haryana roadways, said they received a letter from the state transport department asking to convert roadways buses into ambulances to assist the health department.
Based on the order, the technical team, working at the roadways workshop, was assigned the task and equipment like four beds in each bus with two oxygen cylinders, ambulance light and siren was installed in five mini-buses of the department.
These buses will also have medical equipment like oxymeter, oxygen mask, PPE kits, sanitisers, medical waste disposable bags, medicines related and a first-aid box.
The bus will be driven by a driver of Haryana roadways and a team from the health department will work inside the bus ambulance.
FacebookTwitterLinkedinEMail


Read More:Haryana roadways turns five mini-buses into ambulances | Chandigarh News – Times