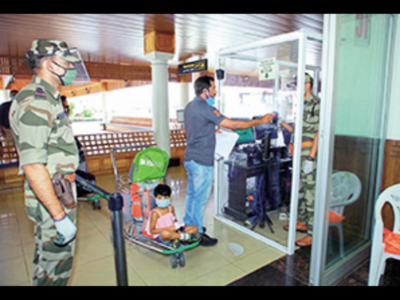 Glass cubicles are being set up at all touch points at the airport
KOCHI: With airports in the state functioning despite lockdown, Central Industrial Security Force (CISF) at Cochin International Airport (Cial) is taking steps to ensure the safety of its personnel. These include glass cubicles being set up at all touch points to prevent contact with passengers and using cameras to verify ID cards and air tickets instead of touching them.
The cubicles are being set up at all major points inside the airport where security personnel have to interact with the passengers. CISF personnel will be standing inside the cubicle made up of glass, which will avoid direct interaction with passengers and prevent the chances of contracting the virus through aerosols.
At the entrance to the airport, CISF personnel will stand inside the cubicle and verify documents and tickets of passengers through cameras. Passengers have to scan the barcode on the tickets at the cubicle to avail entry.
"The risk of contracting the virus is high at security check areas where frisking has to be done by officers though they don PPE kits. However, all CISF personnel have received two doses of the vaccine making them more immune to the virus. Those who show symptoms will be immediately quarantined and direct contact between the personnel is limited. Also, CISF personnel are using face-shields too in addition to masks and gloves," said an airport source.
Ever since the second wave of the pandemic hit the state, Cial has strengthened safety measures to protect all personnel working at the airport, especially security and ground handling staff who are at the frontline and have to interact with passengers each day.
Cial has already provided PPE kits to all employees who come in direct, close contact with passengers. Frequent sanitation of all places, disinfection of cargo, markings on the floor to maintain social distancing, separating counters and cabins using transparent glasses are part of the measures.
FacebookTwitterLinkedinEMail


Read More:Cochin International Airport sets up glass cubicles for no-contact verification