The general manager of the hotel at the centre of Perth's latest quarantine leak says the security guard who contracted COVID-19, known as case 1001, was wearing personal protective equipment.
Perth Pan Pacific's Rob Weedon was reluctant to answer questions about case 1001 but told 6PR's Liam Bartlett he had seen CCTV footage of the guard on duty and he was wearing his PPE correctly.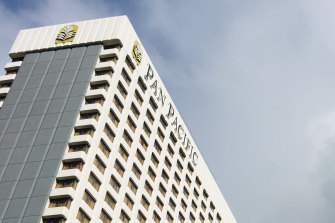 "He was wearing his mask and he had his gloves on and he was, in that respect, doing the right thing for sure," he said.
WA Health is investigating how the guard could have contracted the virus in the hotel, which he then spread to two roommates.
The Pan Pacific was not considered a high-risk facility in recent hotel ventilation reports and on Monday, Health Minister Roger Cook said the working theory was the guard may have caught the virus while in close proximity to an infected returned traveller from the US.
The Pan Pacific is both a normal operating hotel and quarantine hotel thanks to a zoning system, where public areas are regarded as 'green zones' and quarantine areas are known as 'red zones'.
Mr Weedon also revealed the hotel had lost hundreds of thousands of dollars during the city's past two lockdowns triggered by failings in the quarantine system.
The hotel lost about $250,000 over the February lockdown and $100,000 during the recent April lockdown triggered by the Mercure Hotel cluster.
"This week we've hurt, we had 120 booked for high tea last Saturday, that dropped down and then on Sunday [it dropped to] 100 odd, and that dropped down to 20," Mr Weedon said.


Read More:'He was doing the right thing': Hotel boss says case 1001 was wearing PPE